Get Active! Running Events from our partners at Kilomathon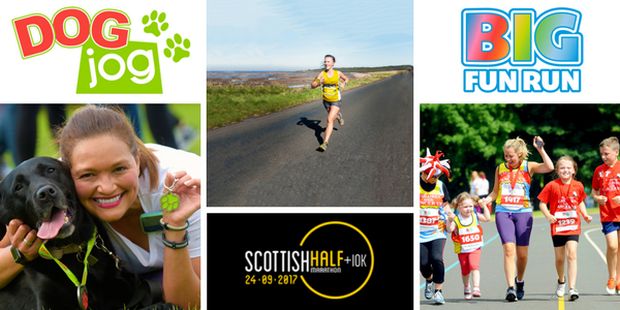 The Kilomathon, which sets off from Ocean Terminal, may be a distant memory but there are plenty of other running events from the same company to get booked up for!
Dog Jog
Sunday 30th July

Have a bark in the park at Edinburgh's Dog Jog
Bring along your four-legged friend and have a bark in the park at Edinburgh's Dog Jog this summer!
Dog Jog is a unique 5k jogging event for you and your dog to get fit and have fun. Each event offers a relaxed, fun atmosphere with no times and no pressure, you and your pet pick the pace!
Holyrood Park
Sunday 30th July
8.30am
Dog Jog is a brilliant opportunity to accomplish your personal goals with your dog by your side; whether you are raising money for a charity close to your heart or simply wish to keep fit. Plus, when you cross the finish line you'll receive a fantastic Doggy Bag jam-packed with goodies for both you and your four-legged friend, as well as a Dog Jog Collar Keyring medal!
Standard entries are available now.
Find out more and enter today by visiting www.dogjog.co.uk
Big Fun Run
Sunday 30th July
Join in the fun at Edinburgh's Big Fun Run!
Be an Edinburgh Big Fun Runner in 2017!
Big Fun Run is a 5k untimed run strictly for FUN where it's all about relaxed exercise. There's no times, no pressure, no sweat - just some easy moves and lots of laughs.
Holyrood Park
Sunday 30th July
11am
The runs are suitable for all the family where you can achieve something great together whilst accomplishing your own personal goals; whether you are raising money for a worthwhile case close to your heart, remembering a loved one or simply keeping active. Don't miss out on the fun.
For more information visit the Big Fun Run website at www.bigfunrun.com and book your place today.
Scottish Half Marathon & 10K
Sunday 24th September
You'll coast to a new personal best...if you can resist stopping to admire the view!
The 2017 Scottish Half Marathon + 10K takes place on Sunday 24th September along the stunning East Lothian Golf Coast.
This year's event is set to be the biggest and best yet. With two fast, flat and picturesque routes along the East Lothian coastline and a grandstand finish at Musselburgh Racecourse, this is the perfect opportunity to re-write your PB in style! The courses also make great first time routes for those of you new to the Half Marathon or 10K distances.
So what are you waiting for? Set your next running challenge today! Register now: https://goo.gl/Uw5INu.